Bureaucrats:
Withersoul 235 • MasterSlenderTR
Admins:
Founder: Lucas Auraelius

---
Affiliated communities:

What's your favorite Slenderverse series?
Hello, and welcome to the Slenderverse wiki!
An encyclopedia dedicated to the Slenderverse, or the Slenderman Mythos. The aim of this wiki is to comprehensively catalog every story in the 'Verse. You can help us grow by editing an existing page, or starting a new one! Editing is available to everyone and should be respected.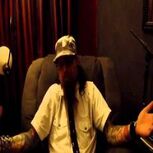 FutureRefused2Change is a youtube channel with an accompanying twitter. It centers around Stack who is investigating a series of odd events surrounding him that was triggered by the discovery of a video tape that makes refernece to the Slender Man as well as multiple other horror references that are geared toward his interests. He intiatilly believes this to be the result of a friend's prank. 
READ MORE HERE. For previous featured articles, see here